Welcome back! So glad you enjoy reading about my journey creating Spiked Beauty Co. I'm going to jump right in today. If you missed yesterday, be sure to read it by clicking here.
March 2021 – Month 3: Goals, Branding, Socials, & Suppliers
Now we get into the major decisions I have to make to get Spiked Beauty Co. where I need it to be. I spent month 3 setting goals, determining branding elements, establishing a social media presence, and selecting vendors to serve as suppliers. So much good stuff!
Setting Goals
My planner arrived in early March. That was so exciting. Of course, that meant I needed to now jazz it up. So I pulled out my stickers, purchased a few charms (didn't know that was even a thing until a planner influencer told me), and pulled out my colored pens.
So before I go on, it's important to explain how I set goals. My process based on when each step takes place:
Annually
List all the major goals I have for the year in no particular order. I don't recommend more than 10 major goals. It can get overwhelming really quickly.
Then determine a due date and put that next to the major goal. I plug the due date into the calendar page in my planner and on my phone's calendar.
Break down each major goal into 3-5 mini goals. These mini goals are the steps to accomplish the major goal.
Put a due date next to each mini goal. This helps you determine how much or little time you need to complete each step. Then plug those into your weekly planner pages. <— this is why I MUST have a planner with at least the months dated.
Monthly
Review major and mini goals due that month. This helps me keep focused on what the big picture is for the month.
Create a list of tasks to complete each week in the month to accomplish the major and mini goals.  Breaking it down this way lets me get an idea of which weeks will be more hectic than others. It also helps me prioritize.
Weekly
Each week, write down the daily tasks that need to be completed for that mini goal.
Plug the tasks into each day. This way you get to plan around important appointments.
Daily
Complete the to-do list of tasks you have written.
If you finish your daily list and you have more energy, do a couple tasks for the next day.
Lesson learned – setting goals and breaking them down into tasks makes it easy to accomplish them.
Wanna be a Spiked Beauty Co. Insider? Then click the pic below…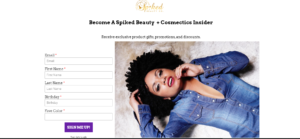 Branding Spiked Beauty Co.
Choosing the branding for Spiked Beauty Co. took a lot of time. I wanted to give the feeling of luxury but with a fun indie twist. I spent a lot of time researching color psychology.
I love the discipline of color psychology. It's so interesting to see how brands influence our interactions with them just by picking logo and website colors. It's simply fascinating!
Additionally I did a lot of competitor analysis and speaking with ideal customers. It was helpful to understand what people that would buy my products were actually looking for. What things my ideal customers liked and those things they didn't.
After my research phase was completed I found a brand style guide template and completed it. I entered the colors, patterns, and images that I wanted to represent in the Spiked Beauty Co. brand. This made it easy to identify what my ideal customers wanted to see from Spiked Beauty Co.
Lesson learned – creating a brand style guide made it easier to know what I needed to post on social media and how to engage with ideal customers.
Let's Get Social
Now that I had a defined branding style, I could begin setting up my social media accounts. I started with the ones for my personal accounts – Quiana Murray. I overhauled all of them to match the branding I planned to use with Spiked Beauty Co.
I also updated this website. I didn't want to confuse people and having them think I was still consulting. So I made this site more Spiked Beauty Co. focused. That way people that landed here, could be pointed directly to Spiked Beauty Co.
Once my personal accounts were updated, I began updating the Spiked Beauty Co. social media accounts. I added bios, links, and other important information. You can see Instagram here, Facebook here, Pinterest here, and Twitter here. I decided these would be the primary social platforms I'd begin with.
With the social media accounts ready to go – I created a 1 month plan of social media posts. This is where my planner came in handy. It was great to have a place to write down the post ideas. I then drafted the posts and plugged them into my social media auto-scheduler to post on each day.
I really wanted to post a lot on social media. I felt it would be a great way to really jump start brand recognition. However, it just felt too overwhelming to try and publish the number of posts I really wanted to. So I opted for less posts until I bring someone else on.
Lesson learned – it's better to post less and be consistent on social media than to try and post a lot only to end up with sporadic posts.
Do I Need A Business Plan?
Initially I wasn't going to start with a business plan. I'm good at goal setting and tracking financials so that seemed like enough. Plus, I had no desire to secure outside funding via a loan, venture capitalist, credit, or crowdfunding for the initial startup.
A business plan just seemed like too much administrative work. I was ready to get out there and get moving! Then I remembered what I read in #Savvy Business Owner (seriously, pick it up here if you plan to run a product-based biz), a business plan helps you see everything laid out [paraphrasing].
I knew my shift from service based B2B to product based B2C really needed to be well planned out. So I bit the bullet and spent 2 weeks writing up a 30-page business plan. Inside it has everything I needed to be successful this first year. It also includes a 3-year high-level plan.
And you know what? It really was a great time investment. There were aspects of Spiked Beauty Co. I hadn't thought of. There were steps I would've missed causing major delays. I also was able to see in black and white, what the financials would really be.
I went all in with data. I found market projections and forecasts. I even studied industry trends.
I didn't shy away from the financials either, no matter how scary it all seemed. It gave me another reason to view my competitors and see how I could stand out in such a competitive industry. More importantly, it showed me gaps in the market where I could build a community.
Lesson learned – create a detailed business plan. Some aspects will likely change, but it helps create a great foundation.
Go Big Or NOT
Wanna know a secret about me? I love delegating, outsourcing, having help so I can do the things I want to do on a large scale. Spiked Beauty Co. is no different!
In my mind it worked like this:
I'd make the formulas.
I'd create handmade samples for testing.
I'd send off to the distributer to fulfill orders and mail to customers.
What ya girl didn't consider is minimum order quantities, lead times, and COST! Let's just say… reality slapped me like I stole something.
As I began talking to labs and distributors it became quite evident I was not there yet. So I reworked my process. I needed to build not just distribution but a full supply chain.
I Needed Suppliers
Oh boy! Did this open up a can of worms. I now had to not only determine what to buy for each step in my distribution but also which suppliers to use for everything.
I started with the makeup ingredients. I needed to source from a supplier with enough supply to buy in bulk so I could keep costs down. This would also allow me to formulate – test – sell with the same supply.
Once I found the ingredient supplier I needed packaging. Chile – I was up all hours of the day and night. Some manufactures were overseas, some here in the USA. It was weeks of meetings at 3 AM just to get everyone together to ensure compatibilities. Whew!!
Next up was packing. You know, the actual packing for mailing. I had to determine not just how my products would be shipped, but how to keep them in tact. This meant conversations with packing suppliers.
My goal is always to keep waste low. So it costs a bit more to use sustainable packing and packaging. As Spiked Beauty Co. grows, I'll be able to replace some aspects of the packing and packaging with more sustainable items. For now I believe I've reached a great balance!
I Still Needed… Money
Thanks to my business plan I knew what I could sell my products for once ready. But what I needed was the capital to get the first set of ingredients, equipment, packaging, etc. So yeah, I was happy to have spent so much time being detailed with my financials.
I decided to use some of my savings. I carefully calculated how much I was comfortable using without putting my family in jeopardy. Cause you know teenage boys like to eat… a lot!
Once I knew how much I was willing to invest, I began negotiating with the suppliers I identified. I obtained quotes from at least 3 suppliers for each category.
I moved forward with buying the equipment and first set of bulk ingredients. I decided to pace my purchasing so I didn't overextend myself. Talk about making scary moves!!
Lesson learned – price out every aspect of your startup and then get quotes for anything you need to buy in writing.
This was month 3. There was a lot going on. It was super fun but also scary at times.
Next month I'll do another write-up so you can see how month 4 goes for me. Until then… stay beautiful!