Welcome back! So glad you enjoy reading about my journey creating Spiked Beauty Co. I'm going to jump right in today. If you missed yesterday, be sure to read it by clicking here.
February 2021 – Month 2: Getting Organized
If your eyes glazed over reading yesterday's post… well, chile I can't blame you. Month 1 was no fun. It was all about making sure the behind the scenes 'stuff' was completed. Month 2, now that's where the fun began. I know, I know, getting organized doesn't sound like fun. I promise, you'll see why…
I could focus on the more fun aspects of my business.
Choosing A Planner
Every year I have an annual tradition of spending way too many weeks trying to find the perfect planner. I usually start my planner search in October or November. This year I was well into the year before making my decision.
Each time I pick the same one. I just like what I like. However with a different business model, I decided I would pick a different one. So I found the perfect planner on Etsy (check it out here).
With my planner I could plan out weekly and monthly:
Sales goals
Social media growth by platform
Social media posts
Inventory
Appointments
Ads by social media platform
Returns, exchanges, and issues
It allows me to track:
Social media consistency and growth by platform
Sales by method (i.e., website, social media, etc.)
Ad metrics
Other important business metrics
Best of all – it's already dated. I don't like having to date planners myself. I'd much rather that be done for me.
Once I found the planner, the seller allowed me to customize the cover with the image I like. This was based on the art designs she already had. Plus my name or any other message I wanted up to a certain character count.
Lesson learned – choose a planner that already has the metrics you need to plan and track.
Become a Spiked Beauty Co. insider. Click the picture below…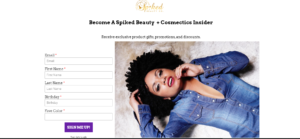 Birthdays & Events
One thing I learned is not to avoid non-business related events and celebrations. With the pandemic in full swing, I couldn't go 'out'. I could still celebrate birthdays and events with family via livestream.
February is birthday month in my house. My birthday and my twins' birthdays are in early Feb. So I planned my business around them.
It was much easier to do that, than to assume I wouldn't need to take time away from my business. I've learned to over-estimate the time needed for fun events. That way, if I don't take the full week off, I have extra time to do other fun things or work on my business.
Lesson learned – over estimate how much time you'll take breaks from your business so you don't feel guilty or unproductive.
Office + Workspace – Oh My!
When I was diagnosed with Fibromyalgia I decided to move my office up to my bedroom. This allows me to avoid the steps in my home as much as possible.  It really helps me keep our important documents organized.
I knew running Spiked Beauty Co. would mean I needed a place to create and test new formulations. I thought that would be my office. I would keep my desk neat (yeah right!) and use one side for administrative tasks and the other side for formulations.
Boy was I WRONG! My office just had too much paper, files, and office equipment. Not to mention it's where I record videos. I just didn't have the right setup to use this space for more than one thing.
Now, am I saying it couldn't be done? Nope! If I had to I would. However I have the space to keep my administrative 'stuff' away from my formulation area. So to make things easier on me, I decided to setup a separate area for Spiked Beauty Co.
This would allow me to keep all of my formulation ingredients, products, and equipment for Spiked Beauty Co. in it's own space. Resulting in less instances of me having to lug heavy equipment and supplies between storage and my workspace. Plus it would be easier to properly store and sanitize everything if I kept it together.
Lesson learned – Jan was right, it's better to have separate office and creativity spaces. (Throwback reference to The Office TV show. Watch the snippet from the episode here.)
Tomorrow I'm going to share what I did in month 3 of running Spiked Beauty Co. It gets really interesting because we'll chat all things getting social and making important product decisions!