Welcome back! So glad you enjoy reading about my journey creating Spiked Beauty Co. I'm going to jump right in today. If you missed yesterday, be sure to read it by clicking here.
Know When to Listen
Yesterday I told you about my time away from Spiked Beauty Co. for a year in 2020. This was one of the best things that could've happened for me. Now I'm not talking about the pandemic – that was no fun at all. However, having to opportunity to sit on Spiked Beauty Co. for a year without taking any action really helped me process some things.
One very important aspect is how I would position my brand. I'll get into those details later. Observing how product and more importantly B2C (business to consumer) small business owners are operating in the current technical landscape was eye-opening. Like I mentioned before, my last cosmetic company was in the early days of the internet.
It was great to get a feel for how these small business owners:
Market their businesses
Build relationships with customers strictly online
Determine when and how to work with national and global distributors
Figure out how to source their supplies and materials
Connect with one another online in niche communities
I felt much more empowered to embark on this next business journey.
Lesson learned – get in the room or an online community with people you can learn from.
Get on this list now! Click the pic to be added as a Beauty Insider…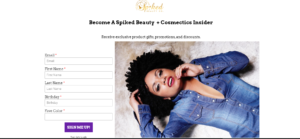 January 2021 – Month 1: Setting The Foundation
Since I started actively working on build Spiked Beauty Co. in January of this year, I decided that would be when the clock started. This way I would be able to create business goals and benchmarks with some meaning behind them. Also I wanted my fiscal year to start in January to make accounting easier.
As a reminder – remember I already grabbed my business name, domain, and social media accounts back in Nov. of 2019. So I didn't have to worry about trying to figure out a name or any of those basic business fundamentals.
Taking Inventory
The first thing I did was inventory what systems and software I owned to set up my business foundation. I went through and took an audit of all the software, supplies, etc. I had, so I knew what I'd need to purchase now and during the first year. Most people don't think about this type of thing, but starting your business on a solid foundation makes your life easier and your business scalable.
I created a simple spreadsheet with all the software/ systems along with any renewal dates if needed. Again – not glamorous work, but it helps to know when to expect any big expenses. Fortunately, I built my last business on LTDs (lifetime deals) so the few annual expenses I had included – business email (at my domain not my email subscribers), domain names, website hosting, virus protection/ VPN, lawyer, and other small things.
Now I had all my current system renewals mapped out. Then I plugged them into my phone's calendar and set a reminder at least a couple days ahead of the due dates.  I was ready to move forward and identify any gaps in systems I needed.
Lesson learned – know what you already have and use it!
Plugging The Holes
Remember when I said this month wasn't glamorous? Well I meant it. After figuring out what I had and setting up processes to keep everything running smoothly. I needed to know what else I might need to run Spiked Beauty Co.
This is where following and connecting with other small business owners comes in handy. I'm always going to advocate for surrounding yourself with knowledgeable people. This way you always have a resource ready for questions and you can be someone else's resource.
Here's what I needed that I didn't have and when I'd obtain them:
Website for Spiked Beauty Co.
Shipping provider
Database for suppliers and vendors
Dedicated bank account for Spiked Beauty Co.
Business purchasing accounts (i.e., Office Depot, Amazon, etc.)
Accounting software
Liability insurance
Industry association membership
Dedicated phone line (equipped with e-fax: yes people still fax)
Business address for financial and business correspondence
Ad accounts (social media)
I knew I didn't need everything right away. I took time to determine when it made sense to add each of these into my business system. Some, still aren't needed quite yet.
Lesson learned – identify what you'll need in the coming year, this way you can plan for when those expenses need to be incurred.
Tomorrow I'm going to share what I did in month 2 of running Spiked Beauty Co. It gets much more fun and creative, I promise!