Welcome back! So glad you enjoy reading about my journey creating Spiked Beauty Co. I'm going to jump right in today. If you missed yesterday, be sure to read it by clicking here.
What Happened After November 2019?
Chile – not a darn thing! I knew I was a long way from ready to officially launch Spiked Beauty Co. I just didn't expect to take a full year off!
In December of 2019 I decided to set up Spiked Beauty Co. social media accounts. I wanted to be sure I grabbed those before someone else. Other than that, I just relaxed for Christmas break.
Well Christmas break turned into my birthday month – February. Which then turned to my anniversary – March. And well, you know what happened to the US in March of 2020.
Lesson learned – setup your social media accounts as soon as you know your business name.
2020 The Year of Relaxation & Learning
By March the entire country shut down so I decided to just go with the flow. My kids were now home doing school and I needed to be there to help them. I figured Spiked Beauty Co. could wait a bit longer.
I decided since I wasn't going to take any action on Spiked Beauty Co., I could at least learn how to shift from a service-based business to a product-based business. So I started following some amazing YouTubers and small business owners. I absorbed as much information as I could from them.
It was an amazing experience! I found one small business owner and YouTuber that was invaluable to my learning. It was Savy Leiser from Savy Writes Books (click here to check out her channel).
Through Savy I learned of her book on starting a product based business #Savvy Business Owner. (pick it up here, and nope I'm not an affiliate) Savy's book walks you through the entire process of starting a business. Some of it was information I already knew, however it was good to see how the product business landscape changed since I was in it.
I highly recommend Savy's book. If you want to crowdfund (using KickStarter, IndieGoGo, etc.), she outlines what to do step-by-step to set up your business and even campaign. It is information that I as a former Sponsorship Strategist, highly recommend!
Lesson learned – find resources and experts that you can learn from when starting and running your business.
Become a Spiked Beauty Co. Insider, click the pic below…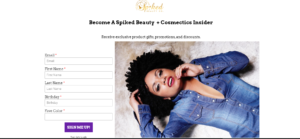 Finding Startup Money For Spiked Beauty Co.
Now before we go any further I can hear you now – but Quiana, you sold a business to start Spiked Beauty Co. Sort of! I sold a business but not to start a new one. That just happened because I love running a business.
I didn't sell my consulting business for multiple millions of dollars. In fact, I sold it for exactly what it was worth without taking a big profit. It was more important to close the deal than to be insanely rich.
By the time I paid taxes, settled debts, and officially closed everything out – I didn't have a huge windfall. I also didn't have debt. So I count that as a success. I was ready to move on due to my health so I didn't try to prolong the negotiations. That's really all I can disclose about this.
Lesson learned – not every business sale results in a multi-million dollar buyout.
Keep Monthly Costs Low
I'm a firm believer in trying to keep costs down, even if you can afford to pay more. Unless something is going to save you time or frustration, don't pay more just because something is shiny and new. For that reason, I made the choice while running my consulting business to purchase lifetime access to the software and systems I needed.
If you're new to this concept in business, this is called Lifetime Deals. What this means is that you purchase a system or software in the early stages of a company and then as the creator improves it, you're already a user/ subscriber. This means you don't have to pay monthly for the service you need because you already outright own it.
There is a drawback to lifetime deals. The creator can decide to close the service down and then you'll have to find a new provider. The expense still proves worth it because you avoided paying monthly.
If you want a reliable lifetime deal researcher and provider, join this free Facebook group (Lifetime Tech Deal Fans). Every deal I have ever purchased from them has resulted in huge savings and reliable products. I'm not an affiliate so I make no money if you buy anything, I just really love this model to build your business systems.
So why is this important? Because if you're looking to keep costs low, you need to reduce your monthly subscriptions to run your business. By purchasing my email list provider as a lifetime deal, I avoided paying monthly while I took a year off to relax in 2020. Plus I didn't lose my list!
Lessons learned – use what you already have access to and keep monthly expenses to a minimum so you don't over-extend your business budget.
Bootstrapping Spiked Beauty Co.
Because I didn't shoot for a high profit margin, I'm bootstrapping Spiked Beauty Co. That means I am using my own personal savings. There was no windfall from selling my business, so I'm being very intentional with how I spend every dime.
This means I'm the business. Sometimes I fall into the habit of saying 'us' or 'our'. That's literally just a force of habit because I've had a team for so long. Not today though. I'm the team. Which is proving to be very valuable.
You see, in my previous businesses, I had help so I didn't have to worry about details in the weeds. I could delegate or outsource functions. Not with Spiked Beauty Co. Here, I'm involved in every single aspect.
This has proven invaluable. It allows me to feel closer to my ideal customers and to get to know my suppliers more intimately. I also get to see how it all comes together in a way I just didn't have to before.
Lesson learned – throwing money at your business can sometimes keep you too far removed from important functions that you should be involved with.
Tomorrow, I'll share how taking 2020 off to relax and learn helped set me on the path to success in 2021!