I get asked a lot about how things are going with Spiked Beauty Co. If you're new here, it's my new wine infused cosmetic company.  Specifically I get asked a lot how I made the shift from a service based business to a product based business.
I wanted to share with you how all of this works and how it's coming together behind the scenes at Spiked Beauty Co. I'm going to be sharing that today as well as sharing some resources with you.
My Skincare Experience
Now I will say this as a preface, I did own my own natural skincare line in the early 2000s, with a classmate from graduate school.  We did a lot of what today would be called pop ups, and we also did a lot of going to craft fairs and farmers markets, things like that. It was really fun and absolutely an amazing way to run a new skincare line. Today I don't have that amount of mobility which is why I decided to go a different route and run  my new beauty business, Spiked Beauty Co. online.
Also, back in the early 2000s shopping online was still kind of a mystery. People were skeptical about buying things and putting their credit card numbers in on websites. So, that is another aspect that is different now from back then. Now that you we've discussed how totally different the landscape is today, we can look at the evolution of Spiked Beauty Co.
What's Next?
Now let me back up to November of 2019. I was no longer in the sponsorship consulting industry. At that time I had sold my business. I was going through the process of figuring out what the next phase was because I still loved being an entrepreneur. I just wanted to figure out what was next.
It's a funny thing when you reach 40. You start to think of your life in terms of what's next. You don't want to work harder, you want to work smarter. You don't want to waste time, you want to streamline so you have more of it. Just so many changes.
One thing about fibromyalgia is, I needed a business I could do from my home. I didn't want to have to do something where I had to be out a lot, because I know I could wake up and be in pain for three weeks. I wanted something I could do out of my house. Something that wouldn't require the level of running around and travel that my consulting business did.
I took a look around and realized I was really enjoying being back to making cosmetic formulations. It was fun to play around with colors and ingredients. Plus it felt great to help other people.
Lesson learned – start a business that plays to your strengths and allows you to run it in a way that fits your lifestyle.
My Big Announcement
After talking myself in and out of business – I thought, you know, why not bring this full circle and go back to skincare? If you know me, you know I am a doer. That day, I decided to go ahead and make it official.
I posted on Facebook. I let the world know Spiked Beauty Co. was my next big step. My goodness, the level of support, and just outpouring of love was just overwhelming! It was wonderful.
But on the other side of that was, I was so early in. Literally the only thing I had done was registered the business name (a few minutes before) and purchased the domain name. The exact opposite of how I'd tell a client to do things. But I was ready!!
Lesson learned – just because you're ready to move forward with a business idea, doesn't mean it's time to announce it to the world.
Then Reality Hit
I had not, you know, been ready to actually launch. I had no product inventory, no website up for purchases, no nothing. All I had was my own supply of products for personal use.
I still had to figure it all out.
What products will I start selling first?
How will distribution work?
What packaging will I use?
How will I mail everything?
Will I need a Cosmetic Chemist to build my formulas or would I use my own?
So so so many questions and no answers. That's the drawback of getting so excited you make such a big announcement. It makes you feel overwhelmed when you don't have the deets figured out.
I had to remember that as soon as you tell your community or your customer base, they're ready to go. They want to start swiping cards. In my mind I was just testing to see if this was something people wanted. However my community saw it as the go sign to start shopping.
Lesson learned – have your basic logistics figured out before you announce your new business!
Walking It Back
Here I was, having made this huge announcement, but I wasn't ready. Talk about confusing your peeps. So I did damage control. I set up an email sign-up list for those that wanted to be notified first when Spiked Beauty Co. launched. This worked out well because it allowed me to have a way to communicate once ready.
I already had an email account set up from my old business. So I rebranded the lists to look differently and threw up the sign-up page. Here's what it looks like: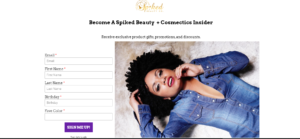 Then I let everyone know that Spiked Beauty Co. was still in the early stages. So it would be some time before they saw anything from me. That helped establish some expectations and made me feel a bit less rushed.
Lesson learned – don't make an announcement until you're ready to start actively promoting or posting on social media.
Tomorrow I'll share why I took a full year off from building Spiked Beauty Co. and how much better I am for it.