Hey Hey Beautiful and welcome back! August was the literal WORST! Here's another short post. Let's jump right in.
August 2021 – Month 8: Planning, Formulating, & Making
August brought with it lots of uncertainty. I started the month strong. Then all of a sudden I started having problems breathing.
Simple things like taking a shower, rolling over, even sitting up were extremely tiring. I kept telling myself I wasn't going to go to the hospital because I didn't want to be in COVID high-risk areas. It got so bad I just couldn't resist any longer.
I headed to urgent care and was there for a day. Once they determined it was not COVID, they transferred me by ambulance to the hospital. Turns out it was a good thing I went in for help.
I was diagnosed with a blood clot in my lung. I'd never had a blood clot before. I also hadn't changed up my routine so I was unsure how I could even have a blood clot.
After about a week in the hospital, I was released to begin the long process of recovering at home. And it was a long recovery! Very painful and very tiring.
I wasn't cleared to do any work. My doctor told me to just lay down, rest, and watch TV. So that's what I did for over a month.
Needless to say there was no progress made toward my launch in August. I was in so much pain I couldn't even be disappointed. I would rather launch right and when I was well. So I just saw this as a brief leave of absence.
Lesson learned – always put your health first.
Wanna be a Spiked Beauty Co. Insider? Then click the pic below…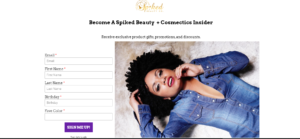 August caused me to really slow down and make myself a priority. Next month I'll be easing into planning the launch.
Until then… stay beautiful!