Hey Hey Beautiful and welcome back! July was a fun month. This post is short and sweet. Let's jump right in.
July 2021 – Month 7: Planning, Formulating, & Making
In July I brought a new planner. I also spent time headed back to the drawing board on some of the products that were tested. It was great to roll up my sleeves and create!
Planning
The planner I was currently using for the first half of the year was amazing. It really helped me keep track of my initial inventory and spending. It was also excellent for social media tracking.
However, I needed the ability to further customize my planner. I wanted to add in more weekly tracking and customization. It's great to change my design weekly as needed. Additionally, having the ability to add pages and other items to the planner was becoming a major need.
After doing lots of research I decided to give the Happy Planner System another try. Years ago I tried Happy Planner but I didn't need as much customization back then. So far I'm loving my new planner along with all the stickers and other customizations I can accomplish.
Lesson learned – use a planner that meets your needs and don't be afraid to switch as needed.
Wanna be a Spiked Beauty Co. Insider? Then click the pic below…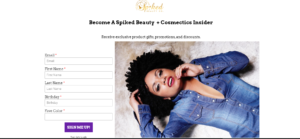 Formulating
Using the feedback from testers, I began reformulating. I enjoy experimenting with clean ingredients. It was fun to start with what was already working and tweak from there.
The reformulations included some of the:
Eye shadows
Blushes
Bronzers
Lip stains
Highlighters
These products will be part of phase 2 when I release my extended product line.
Lesson learned – keep updating formulas as needed.
Making
Once the formulas were updated, I rolled my sleeves up and began making the new products. The results were amazing. I loved the smooth feel and great coverage.
I like for my makeup to feel soft and buttery. This makes spreading easy and allows products to be buildable. You are going to love these new products!!
Once I made the products I began testing them on myself. I'll likely do another round of testing in the winter. This will of course depend on the official launch and sales.
Lesson learned – once you have a working formula, make the products right away.
July brought lots of fun times as both a Maker and entrepreneur in general. Next month I'll be working on all aspects of the launch. Talk about exciting.
Until then… stay beautiful!