Hey Hey Beautiful and welcome back! June brought fun and progress. Let's jump right in.
June 2021 – Month 6: Traveling, Testing, Reviewing, & Registering
I had a lot of fun in June. I was able to get some great relaxation and start moving Spiked Beauty Co. even further along.
Traveling
During this month we had 2 weekend trips planned. I was extremely nervous about traveling given the pandemic. For safety reasons I decided I'd spend the bulk of my time in our hotel room. Our travel was for our twins. So there really wasn't an option for avoiding the trips.
Despite my reluctance, it was good to have a change of scenery. We hadn't done any traveling since the pandemic started.
So why am I mentioning this on a business blog? Because getting away helped me in so many ways. It helped me:
Clear my mind
Get more rest
Spark creativity
Improve my mood
Be more productive
Getting away was really needed, much more than I even realized. It helped me come up with additional cosmetic formulas. It also gave me time to update my expense tracking (which I hadn't been motivated to do).
Lesson learned – prioritize getting away from your normal routine and environment, even if it's just for a day.
Wanna be a Spiked Beauty Co. Insider? Then click the pic below…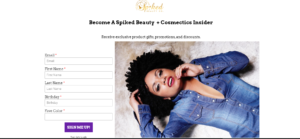 Testing
I finally mailed the test products to our Testers. I did a mega happy dance once the packages were dropped off at the post office. Since all the Testers are domestic, I used USPS. It was far less expensive to mail the packages than I thought it would be.
As I mentioned in a prior post, the products were experimental formulas I wanted to test in real world scenarios. Such as wearing the products all day, to the gym, while eating and drinking, and during the humid summer heat. Testing this way would prove if the formula was ready for production or needed to be reworked.
Each Tester agreed to wear each product 3 times over a 30-day period. The Testers completed a survey (I created online) describing how the product performed as well as their like or dislike of the product. Finally, each Tester would send me pictures of themselves wearing the products.
It was great to see how excited the Testers were to try the products. I'll admit I was very nervous. I usually create then wear my experiments myself for months before allowing others to wear them. This was my first time going from create to external testing in such a short turnaround time.
I also filled the product containers and packaged the products myself. It was a lot to do alone. It put a lot of unnecessary stress on me to try and have everyone test at the same time. I'm used to making smaller batches. This was a true test of my bandwidth as a Maker. It helped me gauge at what order frequency I'd need to hire help!
Lesson learned – stagger testing to make production easier and reduce overwhelm.
Reviewing
To say I couldn't wait for the surveys to start pouring in, would be an understatement. The feedback was all so helpful. I learned which products were keepers and which needed to be reformulated.
It also helped to see which formulas performed better in the heat during shipping. That lesson alone I wouldn't have been able to learn without my wonderful Testers. The Testers really did amazing and I so appreciate their time!!
Honest reviews really help ensure products are market ready. Reading the reviews from Testers really helped me know how to best serve potential customers. And yes, even when a Tester wasn't in love with a product, that still helped me understand how to pivot so I bring only the best products to market.
Lesson learned – be open to changing products based on Tester feedback.
Registering
This month I also formed my LLC. I had registered my business in Maryland but hadn't done so at the Federal level. By registering the LLC I was able to obtain a Federal Tax ID number.
I decided to wait until I was ready to launch because of the cost to register and due to the time consuming nature of the quarterly tax filings. This way I could be ready-to-go when I'd need to start filing everything. Also I could open a bank account that separates this business from my former business bank accounts.
Initially separating the accounts wasn't a major issue because I sold my last business so it was just my name on the account. Now I could completely remove my name and just use the LLC. I will open the bank account in the coming months.
Lesson learned – register your business locally immediately; then register your business with the Federal government once you're ready to launch.
June turned out to be a great month. I loved the opportunity to work and play. I also purchased a new planner in June to begin using in July. I'll speak more about that next month.
Until then… stay beautiful!