Hey Hey Hey Gorgeous and welcome back! May brought a lot of changes. Let's jump right in.
May 2021 – Month 5: Site Development, Social Planning, Supplier Updating, & Making
May was a very busy and expensive month. I was forced to step out of my comfort zone. I also stretched myself thin but in ways I needed to for progress.
Site Development
My website is a custom build. I started with a basic template and then added and removed the elements I wanted. This was a major undertaking because I had to customize every single detail. It took far more time than I expected.
I developed the content and copy for the Spiked website. This included all the pages, images (not product images), and setting up product details. Specifically I created:
Product details and descriptions
Categories for all products
Shipping settings
Different static pages
Store policies and procedures
Blog section and general article format
Cart and Account areas
Site security and backup
I decided not to have payments processed directly on my website. I like the built in features most payment processors already have. Instead my site will direct customers to either PayPal or a popup box for credit cards and other payment methods. This will ensure customers don't have to store their credit card information on my website. This also gives me an added peace of mind about data storage and security.
There are still finishing touches to make to the website. However much of the site has been completed and will be ready to view in the coming months. It's so exciting to see the results of LOTS of hours of work.
Lesson learned – building a site from scratch is time consuming, prepare to spend double the time that you think you will need.
Wanna be a Spiked Beauty Co. Insider? Then click the pic below…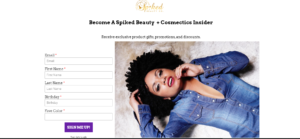 Social Planning
So I was kicking and screaming (in my head) about having to deal with social media strategy again. I knew I needed to compare notes between the website and what I had already begun posting online. In case you didn't know… social media is something I love and hate.
After completing most of the website, it became necessary to revamp my social media strategy. I needed to make sure the branding was consistent. I also wanted to be sure I was going to be posting content that mattered to my potential customers.
It was fun to be able to decide how I wanted to connect the dots between the new website and social accounts. I also determined additional ways to market so I could increase social media followers. I'd love to create video content, however that may not be practical on a consistent schedule.
Now I have a much more laser focused social media strategy. It will be great to see which content results in higher sales. I also decided not to get as attached to this strategy so I can make changes as needed without absolute dread!
Lesson learned – don't get too attached to your social media strategy.
Supplier Updating
I'm not a very patient person. I can exercise patience when needed but it's not my default. Patience is one of those lessons I fully intend to be learning for the rest of my life – despite my desire to just be patient already!
One of my overseas suppliers calculated the import tax incorrectly on the purchase order. This resulted in me having to pay an extra couple hundred dollars for the face (blush, bronzer, highlighter) compacts. I was not a happy camper but the compacts were here and ready to be delivered from the airport so I sucked it up and paid the extra. Not happy at all.
But chile, if you thought that was bad… grab a glass of wine and sit back for this next bit.
The eye shadow compacts were scheduled to be delivered a week after the face compacts. I was patiently waiting for them when I get an email 2 DAYS before the delivery due date. Basically the supplier told me they had a holiday which resulted in my order being late.
Okay, now listen, holidays happen every year. So I was annoyed they hadn't factored that in when negotiating delivery. But still I was willing to hear them out. That's when my Account Representative told me this would result in a 30 change in delivery.
Wait, how is a 1 day holiday resulting in a 30 day delay???? I was like okay, yeah no. Cancel my order and process my refund. You have 24-hours or I will be launching a formal complaint. Needless to say, they processed the refund within 6 hours of my email.
This delay meant my entire business launch was now pushed back an entire season. No more launching in summer, now we were looking at fall. It also pushed back testing because I want a 30 day from launch testing schedule.
Just recounting this makes my blood boil all over again! This is the hardest part about working with suppliers sight unseen. You can't just hop over and see if they're really working on your order. You just have to take someone's word for it and hope for the best. That's even if you get glowing reviews/ testimonials from their former clients.
I'm not gonna lie – I was so discouraged after this. I had done so much research and still this company either lost or forgot about my order. It made me question my entire packaging design choices.
I spent the next 2 weeks researching new suppliers for the eye shadow palettes. I narrowed it down to 2 suppliers. One from the first round of reviews and another I happened to come across by chance. The first supplier still was just so far overpriced. Their prices weren't even competitive but they had amazing reviews.
The second supplier had great reviews and their price was very competitive. I contacted them and immediately the Account Representative I was assigned was awesome. She went above and beyond to not only meet my price but also offered some upgrades I didn't even ask for. She also didn't gouge me on the shipping.
I am extremely happy with the new supplier. Their communication is much more open and frequent. So far they are exceeding my expectations.
Lesson learned – stay on top of suppliers and fire suppliers that don't meet your requirements.
Making
There was roughly 6 weeks until the new eye shadow palettes would arrive.  In the meantime, I could begin making the experimental products I wanted tested. This was sooooo much fun!
I felt a bit of stress to get the products made and mailed in time for Testers to really dig in. However, I knew I needed to get myself in gear and get it done. I allocated a few hours a day to just making products.
Since these were experiments I wasn't too married to the formulas. I did want to see what would happen when combining different ingredients and colors. Also by testing in the summer, I could see how some of the more buttery formulas would do in the Washington, DC Metro Area heat.
What I found really interesting is how many of the Testers choose the same basic colors. Sure there were variations but there were certainly favorites they all selected. This allowed me to test multiple formulas even for the same colors.
I'm excited to see how these products perform. Even more exciting is how the Testers like or don't like the products. Crossing my fingers we have some winners in this round of testing.
Lesson learned – schedule time to make your products so you can meet your deadlines.
May was an emotional roller coaster. It was exciting to get some of the packaging delivered and seeing the bones of the website come together. I'm really excited to see how much progress is made in June.
Next month I'll do another write-up so you can see how month 6 goes for me. Until then… stay beautiful!