Hey Hey Hey Beautiful and welcome back! April brought a lot of changes. Let's jump right in.
April 2021 – Month 4: Creating, Procuring, Connecting, & Planning
April came with major moves and progress. It also served as a time to plan and reflect on next steps. It's was such a range of moving forward and feeling like I stood still.
Creating
Having selected the product testers for Spiked Beauty Co., it was time to create additional formulas and prepare them for testing. The goal is to have testing occur within 30-days of the official product launch. This would allow me to have photos from the testers and to know which products to move forward with.
Testing was only for experimental products. The products that are Spiked Beauty Co. staples, are already mapped out and those formulas are ready to go. These newer products would be extras – for special launches, promotions, and partnerships.
I created the following:
Eye shadows – I selected 3 different formulas I wanted to have tested. I played around with the ingredients, color composition, and packaging.
Blush – 2 formulas were selected to test.
Highlighter – 2 formulas were chosen.
Bronzer – 2 different formulas were selected.
Lipstick  – 4 different formulas were chosen.
Lip Stain – 3 formulas were selected to be tested.
Lip Gloss – 2 formulas were chosen to test.
It took quite some time to develop the different formulas. However I wanted to take into account different skin tones and types. This way I can ensure coverage across many different criteria.
This process was very overwhelming. I really felt the pressure to get all the products created and ready for testing in such a short amount of time. Not to mention, the number of testers. The goal was to begin testing at the start of May.
Lesson learned – limit formulas for testing to 1 or 2 at a time.
Wanna be a Spiked Beauty Co. Insider? Then click the pic below…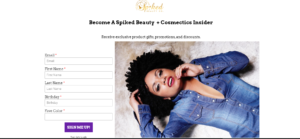 Procuring
April was the most expensive month to-date. I spent lots of money on materials, office supplies, packaging, and other miscellaneous items I needed.
Specifically I purchased:
Micas
Preservative
Oils
Butters
Clays
Colorants
Eye Shadow Press Machine
Tins for Shadows & Cheek Products
Lip Gloss Tubes
Lipstick Tubes
Compacts for Cheek Products
Palettes for Eye Shadows
Containers to Store Creations
Labels for Products
Backup Palettes for Testers
Photography Equipment for Product Photos
Shipping Materials
Website Design (I customized a pre-made theme)
The eye shadow palettes and cheek compacts I ordered via Alibaba. It was not easy to determine the suppliers and design them how I want them to look. However, it was necessary. I chose 2 different suppliers to see which I'd want to use going forward. It was good to do this because it also ensures if one supplier falls behind, I'm not totally without packaging.
Lesson learned – break-up major purchases over more than 1 month so you don't have to spend too much in one budgeting cycle.
Connecting
I realized during April just how overwhelmed I was getting with so many action items and to-dos. I felt like no matter how much I was getting done, no progress was being made.
So I decided to join a professional organization so I would have a support system full of people also creating products. I did a lot of research and selected an organization that fit my needs. I chose the Indie Business Network.
Within the first few days, I had access to so many amazing people and resources. Questions I had were answered right away and I had access to a repository of learning materials that allowed me make lots of progress. Here's a link to the professional organization I chose: https://indiebusinessnetwork.com/
Lesson learned – it's better to join a professional organization earlier rather than later; your fellow members can help you solve problems much faster than you can alone.
Preparing The Testers
It's important my Testers feel comfortable, heard, and valued. To make it easy for Testers, I decided to keep all lines of communication open to them, even before they began testing. I created the following to make it easy for Testers:
Tester Page – on my website I created a page for testers to select their colors, see the ingredient lists, obtain important information, etc.
Tester Survey – includes all the questions I need answered so I know which formulas to move forward with, this will also help the Testers not forget to include important information.
Data Collection – for each Tester I needed to know their allergy information, address, email, color selections, etc.
Tester Emails – I drafted a Welcome email along with 4 week's of reminder emails to send to Testers; these emails include important information about testing along with the Test Survey link.
Lesson learned – make sure your Testers are well informed so they don't drop off before the testing period.
Planning The Next Phase
Things were certainly moving during April. I was pleased with how much progress was being made, especially once I joined the Indie Network. However I realized I had taken some things for granted.
For example, my washer was no longer working. Which meant despite spending so much in my business, I also needed to pay for a costly washer repair. This was unexpected.
I also woke up to my laptop not working. It was my primary device for my business. My laptop had only been used a handful of times because I didn't do much with my business during 2020 when I purchased it. I was beyond annoyed.
My laptop still isn't working. There is a factory reset that happens during certain updates and I'll need to take it to an actual computer repair shop. This was an expense I just wasn't willing to make at the time.
I've been using my son's laptop. While it gets the job done, it doesn't have all my 'stuff' on it. Nor does it have the features I need/ want. This has been an eye-opener.
Lesson learned – prepare for even your 'new' equipment to potentially need repair; this includes setting aside money each month for not just business but household repairs.
All-in-all April was an exciting month. Lots of work was completed and I finally purchased the product packaging. I left April excited for May.
Next month I'll do another write-up so you can see how month 5 goes for me. Until then… stay beautiful!