Yesterday I shared how to paint your canvases that you'll use to stage your space for video recording. If you missed it, go here to catch up.
Today we're going to finish up your project and I'll share how to hang them in your space!
Now that you've created your beautiful paintings, it's time to decorate them and seal them so you can enjoy them for many years to come.
The steps to decorate and seal your canvases are simple. Before getting started, take a look at the video below. It's short but gives you helpful information.
Supplies
Below is what you'll need to have ready before we begin. If you haven't started yet, I've included the Amazon sales page so you can order what you need. (some links may be affiliate links):
Sealing & Decorating Your Canvas Paintings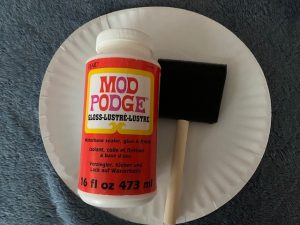 If you choose to use motivational quotes or some type of text, you want to be sure it is thin and can be flattened. The backing doesn't need to be sticky, the sealant – Mod Podge© will hold it in place.
Here are the steps you can take to seal and decorate your canvas painting:
Cut your letters to remove excess padding around them. Some words have lots of padding and that can cause the padding to show on your finished canvas.
Pour Mod Podge© into a bowl or on a plate.
Soak your sponge in the Mod Podge© bowl for at least 5 minutes. You want it to be absolutely saturated with Mod Podge©.
Paint the entire front, sides, top, and bottom of the canvas with Mod Podge©. Be sure to paint using thin layers. This keeps your dried paint from getting so wet it smears or blends colors unevenly. You will also be able to add more if you notice gaps without having a patchy outcome.
Place your letters or decorations onto the wet canvas. If you're adding decorative elements, remove the backing and add them directly onto the wet canvas. Avoid pushing them too hard, you don't want them sliding around.
Wait 15 minutes then add another thin layer of Mod Podge© to the front, sides, top, and bottom of the canvas. Be gentle when going over decorate items. If they begin to bunch, be sure to use your sponge to gentle smooth them out to remove any possible air bubbles.
Repeat steps 4 – 6 for each canvas. If you don't add any decorative items, you can do one coat of Mod Podge©. Just be sure to check for any gaps. You want your finished project to look smooth and uniform.
Let dry completely. After 12 – 24 hours you'll need to check your paintings. Be sure to touch a small area on the corner. You shouldn't feel any tacky residue and there should be no glaze transfer onto your finger. Once you notice there is no more white hue and the entire top layer is clear, your painting is completely dry.
Hanging Your Canvas Paintings
This is the last step. You've come so far! I'm really proud of the progress you've made.
Now we're going to hang your pictures up. As a reminder, you can include additional items as well. Just be sure to get a good view of how you want your space to look to viewers. Not too busy but not so plain it looks boring either.
Here's how to ensure you place your pictures and other items in the best possible location in your video recording area:
Place your chair aprox 3 – 5 feet from the wall. Remember you're going to need to be able to move the chair forward and backward. This gives you ample leg room to get in and out of your chair.
Use your camera or video recorder to take pictures of the space where you'll be sitting. Be sure to keep your chair there so you can get an idea of how high or low to hang your pictures on your wall.
Place painter's tape or use a pencil to mark the wall where your art should be placed.
Hang canvas boards with art tape. You'll need to cut the tape to the correct length. I recommend 1.5″ wide strips. Then place 1 strip on each of the four corners in the back. Use the level to ensure you're hanging the board straight. Then press the board against the wall. Repeat for each board.
Hang stretched canvas with a nail and hammer. Place a small hole into the wall using the nail and hammer. Be sure to measure and use the level to hang your pictures straight. If you don't have permission to put small holes in the wall, you can use a stronger painter's tape like the one here.
Sit in your chair and record a quick video. This will allow you to see how well you placed your art. It also lets you see what your viewers will see.
Celebrate
Art projects are so fun yet take lots of time and patience. You deserve to celebrate your accomplishment!
If this was your first time painting on canvas, please let me know. I'd also love to see what you created. Below is my finished art. I created these myself using exactly what I shared with you. I'd love to know what you think!
Ready to start creating video content? Click here to grab my free Cheat Sheet with 50 content ideas you can begin creating.