Yesterday I shared how to begin staging your space for video recording. I shared the first step which is to measure the space you have to record. If you missed it, go here to catch up.
Today we're going to hone in on our creative ideas and begin moving forward!
Getting Creative
It was important to me that I not have to spend much money staging my space for video recording. I had so many crafts I started and never finished. So to say I didn't want to buy more STUFF was an understatement.
I decided to looked around the house to see what I could use. Now, I won't call myself a hoarder… but like I mentioned before, I had a lot of stuff. I'd been itching to paint lately but wasn't sure what type of painting I wanted to create.
Bingo! I decided to paint minimalist art for the wall behind my video recording area.
If you find you lack ideas, a quick look around Pinterest will get your creative juices flowing. A word of caution here – stick to materials you already have or are inexpensive to purchase. You don't want to create unnecessary expenses.
Supplies
While searching, I found the following at my house. You can click the item to visit the Amazon sales page. (some links may be affiliate links):
I then decided to purchase motivational quotes/ words. Those were pretty inexpensive on Amazon. Click here for the search I used (motivational + wall + stickers).
Preparing to Create
Before beginning I suggest you lay out the materials you're going to use. You can always choose to use framed pictures, collectible items, books, and so on. It's up to you.
Once you've walked around your home and found items to use, be sure to clean them before putting them in your work space. You don't want to have to stop and clean as you're decorating.
For the purpose of this series I'm going to show you how to create canvas art. Be sure to find an area that has a window or great ventilation as the paints and sealants do create an odor. However as soon as your painting dries, the smell also disappears.
Designing Your Paintings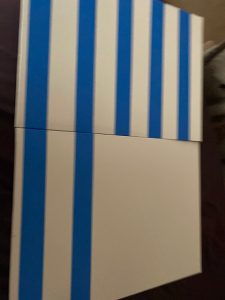 Get creative with how you want your pictures to look. Consider patterns with lines, dots, and other shapes that will give your art a unique look. Be creative and don't hold back.
I recommend sticking with colors that not only match your branding but also look good in your room overall. You don't want your video art to clash with the rest of your room. The point of this is to not have to remove your art when you're not recording.
As I mentioned before, I opted to use lines. The painter's tape made it super simple to create designs with wide lines. To create your own lined art:
Determine if any designs will be similar. I chose to make 2 sets of the same design and 1 different. I like patterns.
Using the painter's tape (ruler and pencil if useful) to create your designs. Be light with the pencil in case you need to erase. Painter's tape won't leave residue on your art so I highly recommend this over other tapes. Remember, when you paint, the tape will keep the canvas under it untouched by the paint. So smooth the tape so it lays as flat as possible.
If you don't plan to keep any of the canvas white, you will need to repeat the taping process once the first set of paint dries.
Once you've taped all your designs, sit your canvas to the side overnight.
The next morning, be sure to smooth the painter's tape down again. This will prevent bleeding under the tape.
Tomorrow I'll show you how to paint your canvas so you don't get much bleed under the tape. As a reminder, let your canvas designs sit overnight. This way you can give yourself time to be 100% sure you actually like your designs.
Ready to start creating video content? Click here to grab my free Cheat Sheet with 50 content ideas you can begin creating.