The first question I get from new small business owners looking to hire me is – how can I get more clients? My default answer: show more people what you can do for them.
Next is what can only be described as a look of immense fear and shock. So of course the follow-up question is – how can I show more people what I can do?
The fastest way to get more visibility and clients is to create amazing content. Content is what draws people to you. Amazing content motivates them to hire you.
Fortunately, amazing content doesn't take much time to create. You already have the expertise, now we'll get it out of your head and in front of prospective buyers. 
Your Ideal Clients
Amazing content always starts with your ideal clients. Always! You need to create content that speaks to them so they know you can help them.
Start by writing (and yes, pen and paper work best) the path your clients take from where they are now to where they want to be. This path is how you create results for them. Example, one of my clients provides health coaching for new Moms. Her clients want to go from overweight to their pre-baby weight. 
Next, break down the 'path to results' into stages – beginner, intermediate, advanced. Take a sheet of paper and create 3 sections. At the top, write the headings: Beginner, Intermediate, and Advanced. 
Finally, write down 3 – 5 things your clients need to know/do/be at each stage. This is about action. What actions are necessary to see some type of result in the beginning, intermediate, advanced stages. These 3-5 things (per stage) become content topics.
Where To Go For Ideas
Do not, and I mean DO NOT skip this step. You will be tempted (especially if you've been in business longer than a year). Do not skip this step. It's vital for content creation success.
Before I tell you where to go for specific content ideas, let me explain why this step is important. People don't like change. In fact our brain uses tricks all the time to convince us to keep doing the same thing. Saying the same things. Even going the same places.
Your Client's Brain On Change
Your prospective clients are the same way. They don't like change. That's why they need YOU. If change was easy, they'd just do what they needed to do on their own. Instead they hire you to help them change because it's hard to do it alone.
Prospective clients are stuck but want help.  They just don't know how to change alone. So they go online and look for help.
They use specific words and phrases to search for help. These specific words and phrases are typed into websites, search engines, and across social media. Remember what I told you before about the brain fighting change?
Well when you use the same words and phrases in your content that your prospective clients use – their brains accept your message instead of fighting (or rejecting) it. Prospective clients can actually see that you can help them. You get them.
You know what they're going through. You have a solution to their problem. All because you took the time to learn + use the same words and phrases they use.
Hang Out With Prospective Clients
Your job as their solution is to find out the specific words and phrases your prospective clients are using. To do that, you're going to need to hang out with them online. Find out where prospective clients are online by opening Google and typing in a few questions prospective clients will (or have) asked you.
When you get the results, head to these places first:
Article/ Blog Comment Sections

Pinterest 

Quora

Reddit

Amazon Book Reviews

YouTube Video Comments
Then see what your prospective clients are saying on social media:
Facebook Ad Comments

TikTok Comments

Instagram Comments

Facebook Groups

Facebook Page Post Comments

LinkedIn Groups

Podcast Comment Sections

Social Media Hashtags 
While you're looking through the comments and posts, write down exactly what prospective clients are asking. Write the specific way they're asking questions. Write how they say they're feeling, what they've tried that didn't work, even what makes them mad. You will put these words and phrases in your content so it resonates with them.
You'll also know what types of content your prospective clients like. If they find the content helpful. What types of content are missing you could provide.
A reminder about managing your time – You can easily get sucked down the rabbit hole if you're not careful. Remember, you're doing research for your clients. Don't get side-tracked and waste hours trying to reply to comments. Your content will do that much more profitably.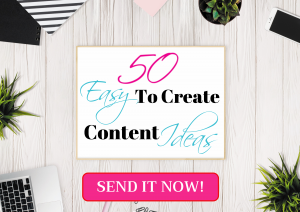 5 For 1 Strategy
The first thing I learned as a corporate trainer and then as someone with ADHD – people learn differently. Create content in multiple formats so you can ensure everyone learns. 
The same goes for your clients. Not everyone reads articles. Not everyone watches videos. Not everyone enters contests. Your job is to present your content in multiple ways.
You've already written down 3-5 things your clients need to know/do/be at each stage to get results. You've identified what they're saying they need. You've even looked at different websites and social media platforms to see how they're engaging with other people's content.
It's time to implement a content strategy. I teach my clients to implement a 5 For 1 Strategy when they're just starting their business. That's 5 different types of content for each 1 topic. Specifically, I break it down like this: 
2 For Free – 1 For Subscribers – 2 Paid
The 2 free content pieces should be easily accessible. These are on open platforms such as your blog, podcast, and social media. Prospective clients can find this content really easily and it costs them nothing to access it.
Subscriber content should be a step up from your free content. This is content that can only be accessed by providing an email address. Subscriber content is the true start of a prospective client's journey to become your client.
Paid content is a commitment to being part of your community. This content means they're all in. You want to honor that with amazing content.
Quick math break – You initially came up with 3 – 5 steps (topics) per the 3 different phases of results. Let's just use 3 topics: 
3 topics x 3 phases = 9 topics
Using the 5 For 1 Method to create content, you'll have:
9 topics x 5 pieces of content = 45 unique pieces of content
That's plenty of content ideas! 
Types Of Content
Oh, it's getting exciting (yes, I geek out on this stuff). This is my fave part – deciding what content to create. There are just sooooo many options.
Like I tell my clients – keep it simple and choose based on your creative preferences. If you enjoy writing you'll want to blog, make guides, etc. Have a passion for design and art? Create process flows and printables. Passion for teaching? Masterclasses and mini courses are excellent options. 
Whatever you decide, make sure it creates value for prospective clients. Give prospective clients value and you become their go-to source when they're ready to invest money. My quick value formula to remember:
Problem  (Client's)+ Solution (Your Content) = Relief (Quick Win)
Here are 10 content creation ideas proven to land paying clients.
Articles

Challenges

Checklists

Contests

Events

Guides

Kits 

Podcasts

Masterclasses 

Templates
Remember you'll need to create at least 5 for each of your topics. So try a few content types you've never tried before. Need more ideas? I share more content ideas here. 
Content Planning  
Before you get overwhelmed – I'll simplify the process. I live to be organized. I also live for planners and organizers. It's becoming an obsession!
When you begin regularly creating content to attract clients, it's easy to fall into a spiral of content creation that zaps all your time. A better approach is to plan time to create content.
Here are a few blank planner templates you can use to begin planning your content creation. (I'm not affiliated with these, use at your own discretion):
Pick a format you like then choose one piece of content to create each week. See, simple! 
Create 
Yes, we've gotten to the time when you get to show off your creative side. You will create the content you've planned. Be sure to have your list of steps/ topics and the notes you took during your research.
Creating content should take as little time as possible. Notice I didn't say effort. You want to put effort and value into your content. You just don't want each piece of content to take hours and hours to create. 
The way to simplify creating content, go back to my value formula.
Problem  (Client's)+ Solution (Your Content) = Relief (Quick Win)
Specifically – 1 problem, 1 easy to implement solution, to get quick relief. Your prospective clients want a win, no matter how small. You can't solve their entire problem with 1 article, podcast episode, or video. You can create 1 piece of easy-to-absorb content that gets them a win.
Dedicate no more than 1 hour each day creating content. In the beginning it will be tough to make progress in an hour. Over time you'll get better and it'll be easy to create amazing content in an hour or less.
A note here: just because your content creates a win, doesn't mean people will want it. People want quality. Take time to make your written and video content visually pleasing and your audio content sound crisp and sharp.
Below are free tools for you to create quality content in way less time:
Tip: Bookmark these now so you can find them later!
Distribute + Promote
The final step to use content to attract clients is to distribute and promote the content you created. This is where your work pays off. It's not enough to just post your content on your blog or social media business pages.
You need to remind people about your content over and over. Your prospective clients see lots of content throughout the day. You can help your content stand out by doing a few simple things.
Schedule social media posts that link back to your content.

Post links to your content on all your social media profiles in the 'About' section.

Make content easy to find on your website by having a blog or resources section.

Prominently post your newsletter subscription forms on social media and every page on your website.

Add links to content in your business email signature.

Share links to your content in online groups and forums. (verify posting guidelines first)

Send emails to your email list subscribers whenever you post new content.

Create ads featuring your content to show to prospective clients.
Wrap Up 
For years I've been using this method to attract clients using content. As my business has grown, I no longer struggle with coming up with high-performing content ideas. Now, I can't seem to shut my brain off! 
Implement a content strategy in your business and client attraction will be much simpler. You will notice an increase in your email subscribes and you community will grow.
As a bonus, you'll know which products and services your community will pay you to create.
Want my 50 Easy-To-Create Content Ideas Cheat Sheet? Grab the Cheat-Sheet here.